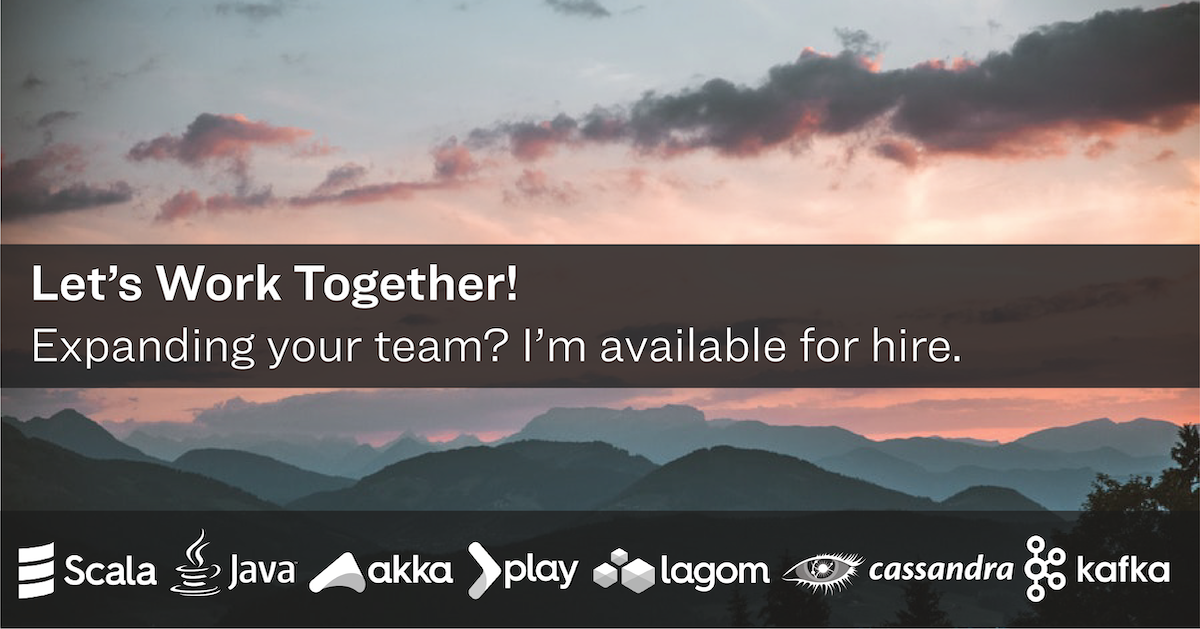 I'm a software architect, developer, and tech lead from Canada. If you're expanding your team and looking for senior level talent, I'd love to chat!
I'm currently seeking a contract role. I'm also open to full-time roles on distributed teams (remote only). If you're interested in learning more about my skills and interests, I'd be happy to send you a CV and connect over video chat. Please contact me on LinkedIn or via my contact form. I look forward to connecting!
Highlights
Over 15 years of architecture, analysis, and development experience — Author of Migrating Java to the Cloud from O'Reilly and the Reactive in Practice series with IBM Developer. Significant experience within the JVM and Java ecosystem, having performed the role of architect, team lead, and developer.

Scala & reactive programming — Former Developer Advocate at Lightbend for the Scala programming language. Former technical lead of the Walmart Canada modernization project, helping to transform walmart.ca to a modern reactive system using Scala, Play, and Akka.

Public speaking and presenting — Presenting at meetups, conferences, and private businesses around the world as a trusted expert on distributed systems and enterprise modernization topics. Founder and organizer of ReactiveTO, a meetup group in Toronto focused on distributed systems development topics.

Leadership — Experience building, coaching, and managing high-performing teams. Hands-on business experience, including sales, marketing, recruitment, and other forms of OpEx planning. Founded and grew RedElastic to $1.2 million in revenue (2018) with a mixed team of full-time talent and subcontractors.
Technical Skills
Architecture — Domain-Driven Design (DDD), OOA/D, distributed systems
Languages — Scala, Java
Frameworks — Play, Akka, Spring
DevOps — Kubernetes, Amazon ECS, Terraform, Ansible
Ops — Implementing cloud and hybrid-cloud topologies for clustered, scalable, resilient systems
Verticals
Miscellaneous
Qualified to work for US-based companies under the TN Visa program.
Open to roles which require (up to) 50% travel.